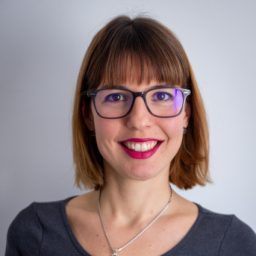 Post-Doctoral Fellow
I am a neurologist specialized in cognitive neurology. I am currently a postdoctoral researcher at the Image Processing lab at McGill University and I am also a cognitive neurology and neuropsychiatry fellow fellow at McGill University Health Centre.
I obtained my MD degree at the University of Buenos Aires (Buenos Aires, Argentina) and completed my neurology training in the Italian Hospital of Buenos Aires. Then, received extensive training in cognitive and behavioral disorders.
My current research is focused on brain imaging biomarkers in neurodegenerative disorders such as Alzheimer's Disease and Frontotemporal Dementia. I have a special interest in finding a reliable and clinically applicable biomarker for the diagnosis of behavioral variant Frontotemporal Dementia (bvFTD).
Research interests:
·        Medical image analysis
·        Machine learning and pattern recognition
·        Biomarkers
·        Differential diagnosis
Publications
Ana L. Manera, Mahsa Dadar, D. Louis Collins, Simon Ducharme. (2021). Ventricle features as reliable differentiators between the bvFTD and other dementias. Submitted to Alzheimer's & Dementia Journal.
Golia Shafiei, Vincent Bazinet, Mahsa Dadar, Ana L. Manera, D. Louis Collins, Alain Dagher, Bratislav Misic, Simon Ducharme. (2021).  Atrophy patterns in sporadic and genetic behavioral variant frontotemporal dementia are based on brain network architecture. In preparation.
Mahsa Dadar, Ana L. Manera, D.Louis Collins. (2020). White Matter Hyperintensities, Grey Matter Atrophy, and Cognitive Decline in Neurodegenerative Diseases. To be submitted
Mahsa Dadar; Ana L. Manera; Vladimir S. Fonov; D. Louis Collins; Simon Ducharme. (2020) MNI-FTD Templates: Unbiased Average Templates of Frontotemporal Dementia Variants. Submitted to Nature Scientific Data.
Ana L. Manera; Mahsa Dadar; D. Louis Collins; Simon Ducharme. (2020) Ventricular anteroposterior ratio is the most reliable feature to differentiate bvFTD from healthy controls and other dementias. Alzheimer's Association International Conference Abstract
Mahsa Dadar, Ana L. Manera, Lorne Zinman, Lawrence Korngut, Angela Genge, Simon J Graham, Richard Frayne, D Louis Collins, Sanjay Kalra. (2020) Cerebral Atrophy in Amyotrophic Lateral Sclerosis Parallels the Pathological Distribution of TDP43. Brain Communications. DOI: https://doi.org/10.1093/braincomms/fcaa061
Ana L. Manera; Mahsa Dadar; John van Swieten, Barbara Borroni, Raquel Sanchez-Valle, Fermin Moreno, Robert LaForce Jr, Caroline Graff, Matthis Synofzik, Daniela Galimberti, James Rowe, Mario Masellis, Maria Carmela Tartaglia, Elizabeth Finger, Rik Vandenberghe, Alexandre de Mendonça, Fabrizio Tagliavini, Isabel Santana, Chris Butler, Alex Gerhard, Adrian Danek, Johannes Levin, Markus Otto, Giovanni Frisoni, Roberta Ghidoni , Sandro Sorbi, Jonathan D Rohrer; Simon Ducharme and D. Louis Collins. (2020). Data-driven algorithm for the diagnosis of behavioral variant frontotemporal dementia. Accepted for publication JNNP.
Ana L. Manera; Mahsa Dadar; Vladimir Fonov; D. Louis Collins. (2020) CerebrA: Accurate registration and manual label correction of the Mindboggle-101 atlas for the MNI-ICBM152 template. Nature Scientific Data, 2020. https://doi.org/10.1038/s41597-020-0557-9
Ana L. Manera; Mahsa Dadar; D. Louis Collins; Simon Ducharme (2019). Deformation based morphometry study of longitudinal mri changes in behavioral variant frontotemporal dementia. NeuroImage:Clinical, In Press, published online November 2019. DOI https://doi.org/10.1016/j.nicl.2019.102079
Mahsa Dadar, Ana L. Manera, Simon Ducharme, D. Louis Collins. (2019). White matter hyperintensities and cognitive decline in frontotemporal dementia variants. Alzheimer's Association International Conference Abstract.
Ana L. Manera, Mahsa Dadar, Simon Ducharme, D. Louis Collins. (2019). Group related MRI differences between bvFTD patients and cognitively normal controls. Alzheimer's Association International Conference Abstract
Natalia Sierra Sanjurjo, Florencia Di Nardo, Ana L. Manera, Juan Sorondo, Galeno Rojas, Santiago O'Neill. (2018) Benefits of a cognitive training group in cognitively impaired patients. Alzheimer's Association International Conference Abstract